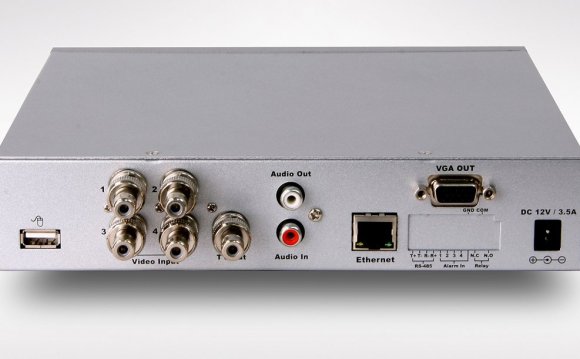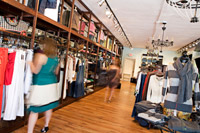 The retail industry loses billions of dollars per year to employee theft and shoplifting. Investing in IP video surveillance cameras as a solution to your security needs provides numerous long-term benefits such as reduced retail shrinkage, maximized store profits, lowered insurance rates, and ultimately a decrease in the number of theft cases. Security cameras also help instill a safer, more inviting store environment for patrons.
With the number of technologies available on IP cameras today, it's important to determine the exact security needs of your retail store. Will you need indoor and outdoor cameras for your retial security system? What are your store's weak spots? Are there any poorly lit sections of your shop? Is there an aisle or section that is harder to see than other areas of your store? These are just some of the questions to consider when shopping for a new retail security system.
Common Retail Crimes
Retail store owners are forever plagued by the threat of shoplifting and employee theft. Fortunately, IP camera systems can help reduce in-store theft like organized retail crime and shoplifting. Shoplifters and employees who know the store is outfitted with retail security cameras will be less tempted to steal or engage in unauthorized activities. Retail security cameras can also help you identify the person who committed the crime with vivid, clear images that are easy to depict.
Shoplifting: The National Association for Shoplifting Prevention estimates that over $13 billion worth of goods are shoplifted from retail stores each year. This amount equates to $35 million in losses per day! If that is not enough reason to set up your retail security system now, then we don't know what is! Veteran shoplifters can be difficult to catch by loss prevention officers. Installing retail security cameras instead of hiring expensive security officers saves you thousands of dollars per year and is considered one of the most effective methods for apprehending shoplifters.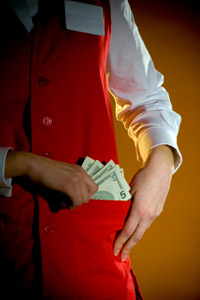 Employee Theft: Despite exhaustive background checks and interviews, no employer can ever be 100% certain that an employee won't steal. Playing back recorded video on your retail security cameras makes it possible to spot cases of employee theft so you can terminate that person immediately, press charges, and recover losses.
Sweethearting: Some retail employees will give unauthorized product discounts to their friends and family members by entering wrong numbers or failing to scan an item. Sweethearting is often missed by management283 as employees have learned discrete ways to sell discounted products (or sometimes free products) at the cash register. Retail store security cameras make it possible to catch employees in the act so that you can respond in the moment.
Flash Rob Theft: Flash robs, a relatively new class of theft, is becoming a major problem in metropolitan cities. Working its way into a different city every day, flash rob theft is typically committed by a large group of adolescents or young adults who raid a store to steal items, all the while throwing and breaking products, yelling or making threatening statements, and posing extreme danger to the staff and customers. Store owners should never intervene or try to use physical force in these often violent robberies, but having retail security cameras recording the incident will help law enforcement identify the participants.
Organized Retail Crime: Large underground shoplifting rings are spread out across the United States. Ring members have a reputation for casually walking into grocery and department stores, grabbing high-value products like Diapers, Razors, or Detergent off of shelves and stuffing them in carts or bags, and then running out of the store where they're usually picked up by a getaway driver. Store owners or security staff may not even notice these professional shoplifters until they notice the missing merchandise, but retail security systems can record the thieves' progress in and out of the store, giving police the chance to identify and stop rings operating in the area.
Where to Place Retail Security Cameras
Every storefront is different in terms of its size and merchandise layout, but each has an exit and entrance, cash register station, and sales floor. Emplacing security cameras near high-trafficked and unguarded areas within your store will help reduce the number of retail crimes. At the same time, properly installed retail security systems ensure that shoplifting and employee theft will be recorded on camera.
Entrances and Exits: Mount your retail security cameras directly above or near your store's entrance(s) and exit(s) to monitor the flow of customers and employees. This location provides a clear view of each person coming in and out your storefront. With high quality IP video, you can recognize and identify faces to save as evidence if needed.
Cash Register: The cash register is an extremely sensitive area and should be monitored at all times. Dishonest employees will steal directly from the cash register, and as a business owner with a never-ending list of responsibilities, you can't always be there to make certain that all sales for the day have been accounted for. Retail security cameras should be mounted above the register to monitor and observe all activity taking place at the register, including transactions, refunds, and money counting. To catch employees who you suspect are sweethearting, cameras should be installed directly above the scanner.
Sales Floor: Always outfit your sales floor with at least one security camera. Depending on the size of your business, you may need a considerable number of security cameras to cover the space. Poorly lit aisles or areas that are difficult to see should also be monitored by cameras. Shoplifters tend to migrate towards store locations that lack sufficient customer service or have less visibility.
Warehouse: Thieves will often seek out store warehouses to steal inventory and/or cargo. Over $425 million in cargo was stolen from warehouses, loading trucks, and docks in 2010 according to FreightWatch International. Security cameras should be mounted up on beams, drop ceilings, or main ceilings to oversee the inventory.
Parking Lot: If your store has its own parking lot, consider investing in a video surveillance system to cover this specific area. Vehicle break-ins are common in store parking lots for employees and customers. Installing network video cameras in your parking lot makes license plate recognition possible, which is tremendously helpful in cases where a perpetrator has fled the scene in his or her vehicle.
See also:
Source: www.videosurveillance.com
RELATED VIDEO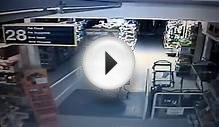 ghost on store security cameras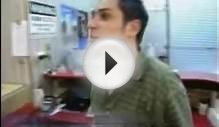 Idiots Rob Camera Security Store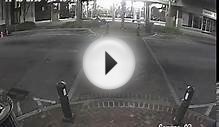 Security camera footage for break-in at Ferse Furniture Store
Share this Post